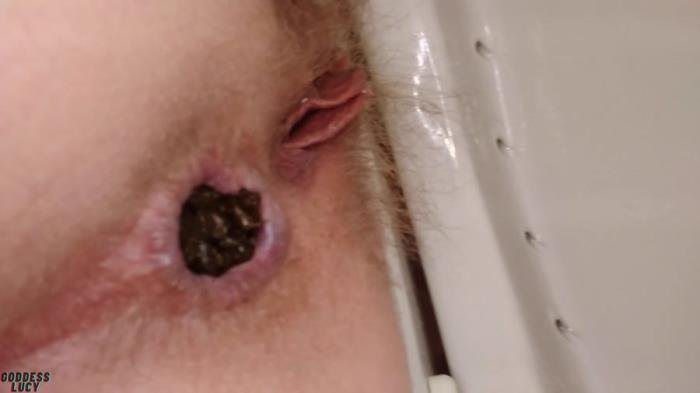 Poop Of The Day: Hard slow mucous covered poop. It's a shy but large and crumbly poop. A hard, glistening, perfectly smelly brick makes its way out of my butthole slowly but steadily before plopping heavily. A few tiny nuggets are left looking like eggs in the next of my asshole until my asshole spits them out. Then there is a fart from my dirty shiny asshole like "PPPP!" Then I show you the toilet paper and the sticky shiny mucous from my ass and I pinch it to show the texture.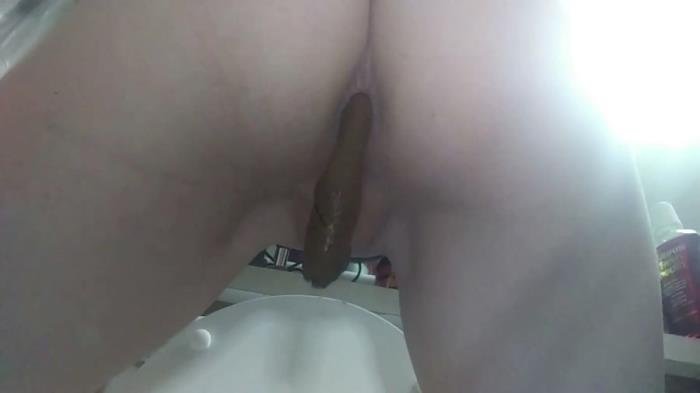 I took daily shits in front of the camera and named each one to create this compilation of 8 trips to the toilet. This video is edited to showcase the movement of turds stretching my asshole and sliding and popping out. If you like to watch my asshole working to push out these thick sexy shits and you want to see them come out one after another, then this video is for you. Each dump also has a 1.5 second title screen showing their name and most of them also have a brief shot of the pile of shit. This is like my previous compilation but I think my technique of filming improved!
1. THE BIG SHINY CRAP CASCADE I can't wait to poop! I can barely stand still before my asshole starts opening up and you can see dark crumbly nuggets shining in the light as my asshole becomes wider. This is a thick hard, dark one that fades into a lighter softer texture. I pee while attempting to push out the last fart and tiny turd. Bristol stool scale- starts as a 2 and ends as a 4
2. FLUFFY AND JUICY-LOOKING LOGS (For some reason you can not hear this one not sure why, sorry, I thought you would like to see it anyways) This one is mostly softer but not like liquid… Is that corn? Watch how the pieces seem to tear off as I am shitting while standing up. Rectal mucous causes the shits to have a polished shine that makes them look juicy. Bristol- type 3
3. STICKY SOUNDING SHIT STORM My pussy is so wet as I am pushing out this corn filled shit. It took a moment to crown but once it did the smelly shits were all unleashed. You can hear wet sounds from the sticky shit passing rapidly as well as my exhausted breath as you watch this one rapidly slide out of my asshole. I show you the pile of turds and you can see my pussy cream dripped on top. Bristol- 4-2
4. LOGS, SHINY POPS AND WET FARTS. Watch my sweaty asshole slowly open up around these solid logs that won't be held back anymore. Then watch me wetly fart and pop out some small smooth wet shits that come flying out with force. And you can see where I got the last ones on the toilet seat because i was shitting standing up lol. bristol 2-4
5. DARK SLITHERING SHITS Hard heavy, sticky turds stretch my asshole wide. Watch my shitty asshole pushing as piss drips from between my pussy lips until my asshole widens with long hard shits gliding out and hear my breath as I push them out of my asshole.
6. LONG PERFECT PLOP. This long shit glides easily and perfectly out of my ass. It has a dark color that fades to a lighter color. I know you love watching me stand here and push out all these perfect shits for you.
1. SMOOTH CHOCOLATE RODS WITH PISS. Watch this long chocolatey smooth shit fall from my ass.
8. BROWN SOFTNESS. My ass has goosebumps and I know it's time to urgently unload this hot brown stuff from my ass.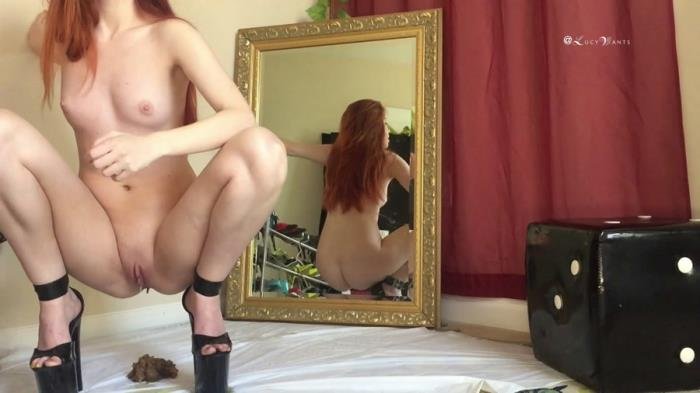 I am breathing hard and I need to shit! I unzip my dress and pull off my panties in a hurry. When I squat down, I am nude except for super high heels. It is a front view but you can see me from behind in the mirror. Finally with a sigh of relief I begin unleashing turds that wiggle out of my ass in many small pieces, forming a pile that falls over. Then I let out a stream of piss while soft shit and farts escape my asshole. I am breathing intensely and bracing against the wall now as I push out each soft brown smelly shit. You can now see a string of slippery wetness in my pussy. It's difficult but I push out a few more turds and my pussy is so wet and I pick up the slippery drip of pussy juice coming out of me. Then I pick up the camera so you can see the glistening pile next to my foot in its super high heel and my toes with gold painted toenails. Get a good look at every angle of it up close. Spend time with this smelly pile and my feet. Then I put the camera between my ass cheeks and show my dirty shithole dirty with shit and my wet pussy.